Your brakes are one of the simplest safety features of your vehicle, but they're also one of the most important. When you come in to FIAT of Manhattan for your regularly scheduled maintenance, we'll check out your brakes and make sure that everything is running smoothly.
Signs you Need your Brakes Replaced
What to Do When Your Brakes Are Squealing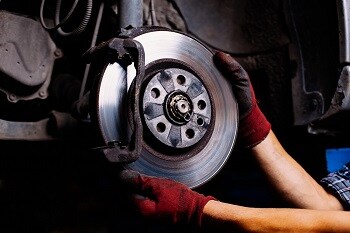 When you come in to the service department for a brake repair, you might be stressed about the process. That's why we provide information for our customers to demystify your brake repair service. These frequently asked questions include:
Should I resurface or replace my rotors?
Regardless of your driving habits, over time your rotors get worn down. With regular wear and tear, they'll need to be replaced once they've worn down to less than the minimum thickness dictated by your owner's manual. However, if your rotors weren't top quality or you have severe driving habits such as driving in a lot of stop-and-go traffic like around Manhattan, or you have a tendency to slam on your brakes to avoid a collision, you'll likely have damaged or warped rotors before their worn down completely. In this case, it might be an option to resurface your rotors instead of replacing them.
How do I know it's time to get my brakes changed?
Your owner's manual will give you a general timeline for regularly scheduled maintenance, which includes replacing your brake pads and rotors. By sticking with that timeline, you'll be following the manufacturer recommendation and ensuring you're eligible for your warranty, if you're still covered. You'll also make sure that you're keeping your vehicle in the best shape possible. Over time, brake pads and rotors wear down, and they'll need to be replaced. The frequency of this is based on your driving habits and is different in every circumstance.
Brake Repair Shop Manhattan NY

Answering your questions is just one example of our commitment to giving you everything you need to make an informed decision about your vehicle maintenance. When you know the signature signs of a necessary , you'll know it's time to bring your vehicle in to the FIAT of Manhattan auto service department. We'll take a look and make sure you're not at risk for brake failure. And we'll be sure to check out all of the components of your brake system to be sure that everything's working as it should.
Schedule Brake Service
When it comes to your brakes, your choices on whether or not to get regular maintenance are limited because they're a requirement for safe driving. But you do have an option when it comes to where to get your maintenance.
At FIAT of Manhattan we want to get you back out on the road as fast as possible. But that doesn't mean we'll sacrifice good service while you're here. We're committed to keeping your family safe by taking good care of your vehicle. With our highly qualified technicians and our helpful service staff, we're sure you'll have a great experience with us.
Our service center is conveniently located at 629 West 54th Street in New York. Give us a call at 888.437.5930 or use our online scheduling tool to make a service appointment with just a few clicks. Be sure to check out what service deals we have going on before heading over.