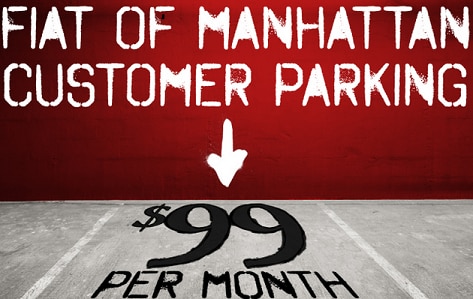 Cheap Parking in NYC
Cheap parking in NYC IS possible and if you have a parking budget, like most people, FIAT of Manhattan can help. Typically, parking in NYC can range from $10 an hour to $50 an hour. Some of these places offer monthly rates, but if you want cheap parking in NYC, then you need to check out our parking deal. There are many locations all around the city including the five boroughs: Queens, Staten Island, Brooklyn, Bronx and Manhattan. Manhattan alone has more the 30 parking facilities that you can utilize with the FIAT of Manhattan parking deal.
Convenient $99 Parking in NYC

Whether you live in 
Brooklyn
, Queens, 
Staten Island
, the Bronx, or Manhattan, you can still 
enjoy our $99 parking spot at one of any 
QuikPark 
garages.  
Find a 
garage
 that's located near you and make your life easier starting today!  Whether you commute from Brooklyn to Manhattan for work, or you live in Staten Island and just love to visit Manhattan, this $99 parking deal is the choice for you.


Why Use A Parking Garage?
Beside the fact that all of NYC is designated a Tow Away Zone according to New York State's Vehicle and Traffic Law, on street parking is allowed but with a risk. You risk getting a parking ticket if you're on the wrong side of the street on the wrong day, your car is at risk of getting stolen, or if your car has a missing or expired registration or inspection sticker, it will get towed. On street parking is limited and double parking a car is illegal at all times. NYC is serious about their parking violations and many of their parking rules are in effect 24/7.
Using cheap parking NYC garage brings back the fun of driving in any of the five boroughs in NYC. You can stop setting your alarm every two hours to move your car or have to run out of a meeting to put more money in the meter. All that changes when you use a parking garage. Using a garage means no more expensive parking tickets or high parking fees; or the threat of being towed!
NYC Driving Tips
Driving in NYC is not like driving any where else in the world. New Yorkers take driving seriously and if you're shy, then stay off the roads. New Yorkers drive fast; they will ride your bumper and cut you off if you leave enough room (or if you don't). Outsiders look at it as being rude, but if you drive as they do, you will do just fine.
If you are new to NYC then read all the parking signs on the street before you park.

Leave nothing valuable visible in your car, if it's valuable, take it with you.

Blowing your horn is some areas can get you a $100 violation fine, so honk only in an emergency.

Never open your windows to strangers.

There is no "right turn on red" in Brooklyn, Queens, Staten Island and the Bronx. If it's allowed, there will be signs indicating the option.

Most of the streets in NYC are one-way streets so be aware.

When driving in NYC be alert at all times. If you are new and want to do some tourist kind of things, don't do so while driving.
Visit FIAT of Manhattan today for a test drive of any of our FIAT models or 
Contact us
for more information!