FIAT is known for its sleek, modern design and is a go-to choice for younger drivers looking for a hip, sexy car. The FIAT 500 comes in four models, each with different trim options. 
Pop: This is the standard FIAT 500 model and is what most people think of when they think about the FIAT 500.

Lounge: This has premium cloth bucket seats, a SiriusXM Satellite radio package, and more available options then the Pop and Sport trims.
Sport: This trim level has sportier seats, a better audio system, and bigger rims and tires than the Pop model, creating a sportier look and feel.
Turbo: With a turbo engine, 135-horsepower rating, sporty seats, and big wheels and tires, the Lounge is meant to give a powerful feel. 
Of course there's also an amazing 1957 special edition modeled after the FIAT Nuova.  The Nuova was designed during WWII when FIAT wanted to give Italians a feeling of independence after the war, allowing people to move around when for so long they'd been hidden away during air raids.  
The FIAT 500 c (c stands for Cabrio) gets 31 city mpg and 40 highway mpg. The Pop trim has the iconic convertible top and the same basic features as the 500 Pop version, while the Lounge has more available features than the Pop and an added security alarm. 
 The FIAT 500 L  gets 25 city mpg and 33 highway mpg.  The L comes in the Pop and Lounge trim levels, but because it's so much bigger than the 500 and 500 c, this is a great choice for families. There are two additional trims for this model.
Easy: The Easy has only a few different standard features compared with the previous trim levels, but it has a lot of luxury options available as upgrades, such as heated front seats.
Trekking: The Trekking has similar features as the Pop, except it has larger wheels and tires for, you guessed it, trekking. With available tech upgrades, you won't be missing out too much.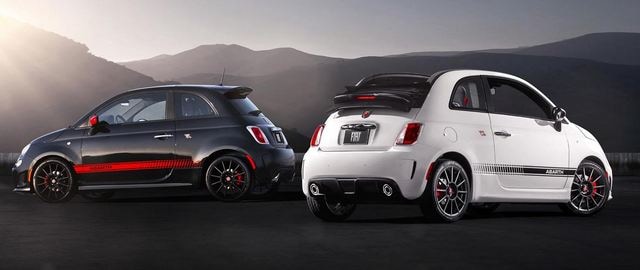 The FIAT 500 Abarth gets 28 city mpg and 34 highway mpg.  The difference between standard Abarth features and those in the Cabrio are slim, aside from the added rear park assist.  With so many standard features such as BLUE&ME Handsfree Communication and FIAT Premium Audio System, it's hard to find anything amiss in the Abarth.  The only choice is moonroof or convertible?  It's a big choice, we know. 
If you can't make up your mind from information online, it's best to just come in to your local Manhattan FIAT dealership and check out our new inventory.  Comparing all of your options in person is really the only way to know for sure which one is right for you.