From our huge inventory of new and pre-owned FIAT vehicles to our exemplary sales and financing reps ready to help you advance your search on your terms, FIAT of Manhattan is standout NYC dealer! Explore this page and the links within it to learn more about the services we offer and the areas we serve.
FIAT Inventory & Expertise
Stylish, sleek, unique, and great on gas, FIATs fit NYC travel to a T. And there's no better place to check out FIAT's latest models than at FIAT of Manhattan.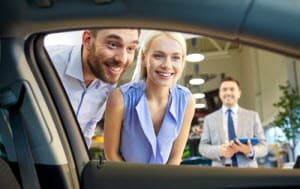 In the FIAT of Manhattan inventory, you'll find the brand's most celebrated and popular models, including FIAT's hallmark smart city car (the FIAT 500 series) and the two-seat Italian getaway ride that's sure to turn heads (the FIAT 124 Spider).
Not sure which FIAT is the right fit? That's what we're here for! The experienced FIAT of Manhattan team is always on hand to listen to your wish list and offer you a range of vehicle recommendations that suit your must-haves and your budget.
FIAT Dealer Upper Saddle River, NJ
FIAT Dealer Flushing Meadows, NY
Manhattan Service Department
With highly knowledgeable shop technicians who can get any job done, you're in great hands when you bring your vehicle into the FIAT of Manhattan service center. Whether you come by for a regular maintenance appointment or a major service, we always deliver the same high-quality service in the shop and at our check-in counter.
We provide topnotch service and a number of appointment options to make bringing your car in for service easier. You can even schedule your next appointment online!
Your Local NYC FIAT Dealer
FIAT of Manhattan is your local NYC FIAT dealer located at 629 West 54th Street in New York City. Get to know all of the services we provide in your area by selecting the link to your region listed on this page.
For more information about the benefits of shopping with us, visit the FIAT of Manhattan studio or call us to schedule a test drive today.