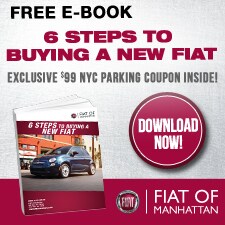 If you haven't purchased a new car in a few years or you're new to the car buying process, you may not have a clear idea of how to get started. So, to help you pilot your next purchase, we've created this educational guide, "6 Steps to Buying a New FIAT."
In this FREE guide, you'll learn:
How to choose the best FIAT for your needs
Top tips to know before you take a test drive
Where to shop for a new FIAT
How to secure new car financing
By downloading this guide, you'll also receive a coupon for $99 monthly parking in New York City when you purchase a new FIAT from FIAT of Manhattan.
Fill in your name and email address in the form to the right and click the Download Now button to claim this FREE guide and your $99 parking coupon.