Transmission Repair Manhattan, NY
The transmission is one of the most important parts in your vehicle. Responsible for controlling the speed, the transmission is part of your vehicle's everyday functionality. Without it, you wouldn't be able to drive your vehicle at all. That's why it's so important to keep up with transmission repair.
You can help your transmission continue to work properly by getting your regularly scheduled repairs and maintenance at FIAT of Manhattan. 
When Should I Get My Transmission Repaired Manhattan?
Check engine light: This light has many meanings, but one is that there's a transmission problem and you should have it checked out at FIAT of Manhattan as soon as possible.


Leaking fluid: If you notice a puddle of fluid underneath your vehicle that's red in color, then your transmission fluid likely is leaking. This is one of the most common causes for transmission overheating and the burning smell. Check for leaks by putting a piece of clean cardboard underneath your car to check for any pooling liquid. 


Burning smell: You should have any unusual smells from your vehicle immediately checked out at your local Manhattan service center, FIAT of Manhattan. As far as a burning smell, it could mean that your transmission is overheating. If this happens, your car will break down, and you'll likely see smoke coming out from under your hood.
FIAT Transmission Repair Shop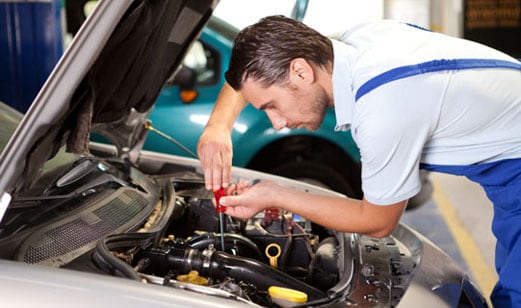 Bring your vehicle to the professionals at FIAT of Manhattan. We have a full team of expert service technicians who can quickly diagnose and easily repair any problems your vehicle is facing. 
The service center is conveniently located at FIAT of Manhattan is located at 629 West 54th Street in New York, NY. Our team of automotive service technicians is here Monday through Friday from 7:30 am until 8 pm and Saturday from 7:30 am until 5 pm. 
Give us a call at 888-437-5930 to set up an appointment or schedule a service on our easy-to-use scheduling portal. Get your transmission fixed today and avoid a breakdown tomorrow!